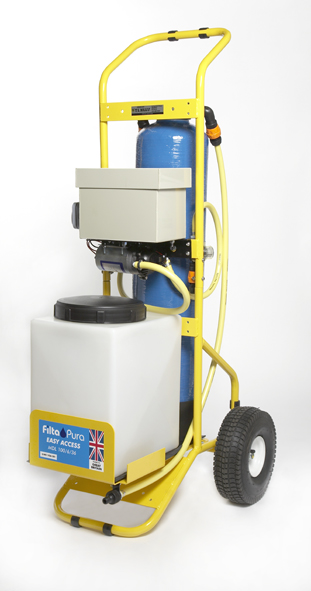 click to enlarge
£1195.00
Filtapura Easy Access 100/6/36 has been designed for the commercial window cleaner or any commercial premises who wishes to clean their own windows. Simply fill the onboard 25 litre tank with normal tap water then the cart will pump this through a de-ionising resin vessel resulting in 100% pure water then pump this up your telescopic pole. To clean windows in this way needs no training anybody can use this system.
Ask a question about this product
Heavy Duty Powder coated steel frame
Heavy Duty steel wheels for bumping up curbs and steps
Powerful 100psi Shurflo Pump
Clean upto 60feet ( 5 Storeys )
25 Litre Onboard Container
Water Container can be changed in seconds
Onboard 36 inch de-ionising resin vessel
Will purify upto 7500 Litres per resin fill
filter water from as little as £0.08 pence per 10 litres
10 Hour Runtime battery
Battery can be removed in seconds
Long Handle enables easy transportation
in-line filter for pump protection
Pressure Pump cut out when water flow stopped
12 Month Warranty
Step into the future of window cleaning with Filtapura Easy Access 100/6/36! This is all you need to start using pure water for your window cleaning business. Perfect for commercial work, Simply fill the On board 25 Litre Water Bottle with Tap Water and the cart will pump the water through De-ionising resin resulting in 100% pure water this is then pumped up your telescopic pole.
Cleaning windows in this way requires no training and will speed up your work by upto 50%, no more ladders, this will also reduce you insurance costs.
With the rechargeabe maintenance free battery you can clean for 10 hours straight then simply remove and recharge at the end of the day. Pre fill as many 25 litre bottles as you can carry with tap water and take them with you, or you can refill using your customers water. Also available is a constant refill tank, connect a hose pipe to the on board container then the machine will will continuously to avoid over filling we have a fitted an interior float valve.
As Tap water is pumped through the resin vessel the de-ionising resin removes all impurities giving you 0.00 TDS. Water this pure will literally suck dirt from the window surface then when rinsed will dry completely streak/spot free.
Filtapura 100/6/36 is perfect for the commercial window cleaner that doesnt want to have permanently fitted tanks in his vehicle.
Other popular customers for this unit include: Schools/nursing homes/hospitals, any large commercial premises which wishes to clean their own windows can start instantly with this unit and save a lot of money from paying contractors.
If you would like a Free Demonstration locally
please call: 0114 269 8686 or email: sales@filtapura.co.uk