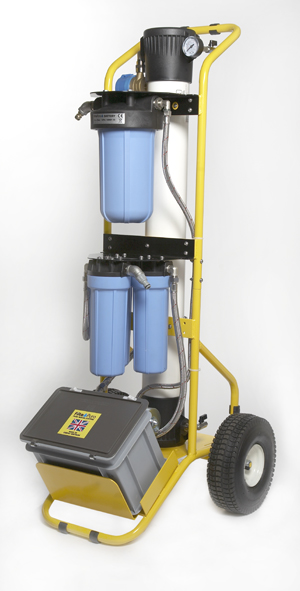 click to enlarge
£2695.00
FiltaPura5 Battery offers the exact same possibilities as FiltaPura5 Water Powered but with the added feature of a 100 psi Onboard pump with 10 our runtime rechargeable battery. Simply connect filtapura5 to a water supply and clean all day.
Ask a question about this product
Heavy Duty Powder coated steel frame
Heavy Duty Steel wheels for bumping up curbs & steps
Produces 0.00 TDS pure water Instantly when connected to a water supply
Will produce 3.5 Litre + per minute of water
Produce Pure water from as little as £0.50 pence – £1.00 per 1000 litres
x2 12 Volt Maintenance Free rechargeable Batteries included
10 Hours runtime from one charge
100 psi Shurflo Pump
Machine will self prime ( will draw water from a tank ) 3 Litre per minute
Will clean upto 60 foot with one pole or 30 foot with 2 poles
In-line Gallon meter
Pressure gauge
RO Housing Drain for cold weather
Resin Vessel Pressure release button
Stainless steel braided hosing
Solenoid valve – stops waste water and pump when water flow stopped
12 Month Warranty
FiltaPura5 Battery can be used in the exact same ways as FiltaPura5 Water-Powered as well as the following additional features:
Fill your van mounted tank with tap water then use FiltaPura5 as a van mounted system, FiltaPura5 will suck water from your tank produce pure water then pump it up your water-fed pole.
Take Filtapura5 on site for example a school, connect to their water supply and instantly clean windows upto 60 foot with one pole or 30 foot with 2 poles all day.
FiltaPura5 Battery is extremely popular with schools/Hospitals/Nursing Homes, that wish to clean their own windows in order to reduce costs. All you need is filtapura5 Connect it to your outside tap and clean all day requires very little training.
If you would like a Free Demonstration locally
please call: 0114 269 8686 or email: sales@filtapura.co.uk