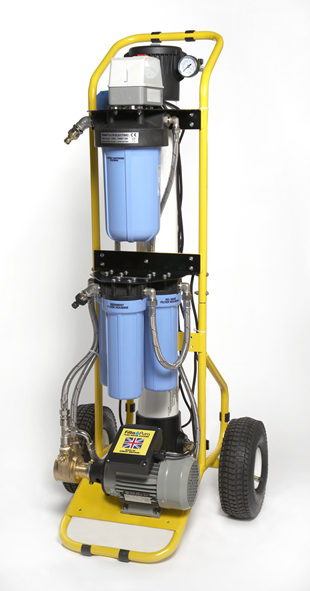 click to enlarge
£2895.00
FiltaPura5 Electric is the ultimate Pure water Producing mobile cart for the professional window cleaner. Will Produce 6 Litres + per minute of Pure water for rapid tank filling. Will Produce enough water and pressure for 2 operators to clean upto 60 feet simultaneously. Filtapura5 gives you the versatility to expand your business in the future being able to produce enough pure water for a fleet of vans every day.
Ask a question about this product
Heavy Duty Powder coated steel frame
Heavy Duty Steel wheels for bumping up curbs & steps
Produces 0.00 TDS pure water Instantly when connected
Will produce 6 Litres + per minute of pure water
Produce Pure water from as little as £0.50 pence – £1.00 per 1000 litre Machine will self prime (will draw water from a tank) Heavy Duty Induction Motor available in 240 or 110 Volt Heavy Duty switch contactor Super powerful 160 psi rotary vein pump
Will clean upto 60 foot with 2 poles
In-line Gallon meter
Pressure gauge
RO Housing Drain for cold weather
Resin Vessel Pressure release button
Stainless steel braided hosing
12 Month Warranty
FiltaPura5 Electric can be used in the exact same ways as FiltaPura5 Water-Powered as well as the following additional features:
Connect FiltaPura5 to your outside tap and electrical supply at home then fill your van mounted tank with Pure water at a rate of 360 Litres + per hour.
Filtapura5 gives you the versatility to expand your business. In the future if you need to take on another van why spend thousands on another van mounted system simply buy just the Tank and filtapura5 is fast enough to produce enough water for a fleet of vans.
Filtapura5 can be taken on site for example to a school or hospital and connected straight to their water and electrical supply then 2 operators can clean all day upto 60 feet.
Filtapura5 can be left all day producing enough water for a full fleet of vans then another vehicle can pick it up take it onsite and use it explained above offering full versatility.
Filtapura5 Electric has been designed for the professional window cleaner who needs pure water fast and at the cheapest price. If you buy a van Mounted Tank system this will take upto 10 hours to fill over night, what happens if by 2pm you have used all the water? your days work will now be finished! with filtapura5 and the interlocking tank system you can increase your tank volume with 100 litre add ons and filtapura5 will be waiting at home to rapidly fill it with pure water.
Also the problem with a van mounted system is if the vehicle breaks down or goes into the garage is stolen etc etc you cannot work. Filtapura5 does not need to be taken with in the van.
If you would like a Free onsite demonstration of filtapura5
please call: 0114 269 8686 or email: sales@filtapura.co.uk