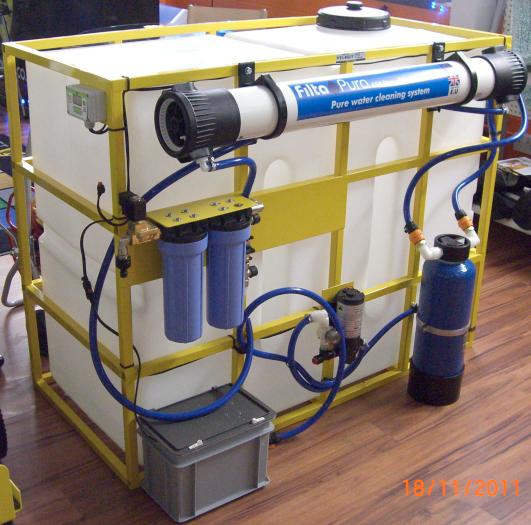 click to enlarge
£2,395.00
Price Includes FREE FITTING
Take away price £2095.00+vat call 0114 269 8686
Powder coated stainless steel cage
650 Litre baffled tank
Fill time 5 Hours
Auto Shut off – Float switch and inlet solenoid
Fill easily from an outside tap
1 person can work with 6ltrs/min upto 5 stories
2 people can work with 3 ltrs/min upto 5 stories
Battery will last a full working day
Vehicle Automatically charges battery
Battery can be removed to boost charge at night
1 x Sediment Filter
1 x Carbon Filter
1 x 18″ DI resin Vessel
1 x 4040 Reverse Osmosis Membrane
1 x Pole pump 100 psi
1 x Pump controller
1 x water inlet solenoid valve
1 x Split charger
1 x Auto charger
1 x 75amp Battery
FiltaPura Van mount offers the professional window cleaner a high quality sheffield made system at a very competitive price. Making it that much easier for you to start up using pure water, we also offer lease-purchase where you can spread the cost over 3 or 5 years and pay monthly.In the evening when you return from work simply connect the system to your outside tap and let FiltaPura fill by itself within just 5 hours. Once full the electronic float switch triggers the inlet solenoid and stops flow, all you need to do now is switch the tap off and disconnect, your ready to go the following morning.
The battery fitted will last your full working day and will be continuously charge while your engine is running, however in the event you use the battery for extended period of time and dont allow enough charging from the engine then you can simply remove the battery at night take inside and charge from the seperate charge unit so you have full power in the morning.
FiltaPura Van Mount is securely bolted into your vehicle with over 10 high strength steel brackets, Fitting will take 1 working day at our Handsworth Sheffield branch.
The 4 filter system using reverse osmosis is the most efficient way of giving pure water and ensures you produce it at the cheapest possible rate. Filters last varying lengths dependant on your water inlet quality, With a TDS Meter you can regularly check your water quality and when it starts to rise then a filter will need changing we will give a full training session of how to do this properly and keep track of how to get the most out of each filter.